9/17/2009: Where Have I been?
Well, the 1500 project has been on hold for about a year. It's been a combination of things taking up my time. Most significantly, though, it's been a purchase I made last winter.. I was frankly getting tired of the slow progress on the 1500, and I wanted something that I could actually drive. I've always been a fan of the FIAT Dino Spider, and when I happened upon this 1967 on ebay, and I couldn't resist the opportunity.
A few weeks ago I finally got it together and took it to the Lime Rock Festival: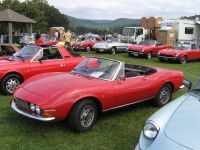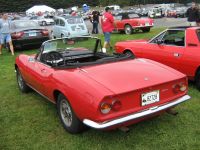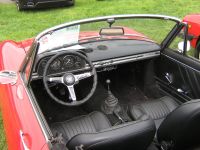 I should confess that those are carefully chosen photos. The paint is actually nowhere near as nice as it appears in them :)
This car is an early model, with a number of unique features that were only seen in the first 500 or so cars.
However, at some point in the history of this car, it was rebuilt with a lot of components from a later car. I received it with a later dashboard, wiring harness, and some other things.
The dash looked particularly bad, with the aftermarket steering wheel and a crudely made center console panel trying to match the wood dash.
It was high on my list of things to fix. I was lucky enough to find an early dash and steering wheel, as well as most of the center console parts I need, and am slowly putting the car back to something like its original spec. It will never be totally original, but on the surface, it's going to be pretty close.
Some of the work i've done over the last 9 months:
adjusted wheel bearings, bled brakes
overhauled wiring (replaced some melted wires and bad splices, undid a bunch of stupid hacks and generally got it back to its stock configuration)
located correct dashboard
located correct steering wheel
located correct center console plastic (the one in the car had been hacked up)
located correct ashtray
located correct FIAT knock-off wheel centers
rebuilt heater controls
corrected shifter (was missing the extension)
replaced oil pan (cracked)
repaired exhaust leaks at headers (incorrect size clamps were installed)
replaced exhaust hangers
replaced plugs and wires
replaced all 3 carburetor tops (existing ones were warped, causing an air leak)
cleaned and balanced carburetors
refurbished air cleaner and chokes (re-plated, powder coated)
located correct fuel filter and bracket
corrected fuel line routing
located and installed correct low-beam headlights (the car had 4 high beams installed when I got it!)
corrected tail lights (they were installed backwards)
Lots of other little things i'm forgetting..
There are always more things to do, of course, but all I have planned for this season is some distributor work and perhaps getting the heater box and control cables back into the car.
The Dino is going off for winter storage fairly soon, and then i'm going to focus on the 1500 again for a while. I really want to get the metalwork done so that I can send it out for body and paint.
Hopefully you'll see some 1500 updates here soon.
6/15/2008: Metalfinishing Videos
I happened upon these videos on youtube. The technique this guy is demonstrating is the same as what I have used on my car.
To learn more about this stuff, visit www.metalmeet.com or purchase the professionally produced video put out by Wray Schelin . It's well worth it. Wray also offers one-on-one classes.
I also came across a video on lead work. My car was built by with a lot of lead filler, so I might actually do some of this later on. My understanding is that it works better than plastic fillers on areas that might flex or where you need a lot of build-up.
2/2/2008: Sheetmetal Welding Tips
Plug Welding
Well, lately i've been doing a lot of plug welding. These welds are used in place of the original factory spot welds when replacing a panel (since I don't have a spot welder).
Here's a handy video I came across illustrating one way of doing a plug weld with a MIG welder. This technique works well for me as well.
In addition, I very much recommend this web page: Plug Welds and MIG Spot Welding. Really, the whole site is worth spending an evening reading. Great stuff.
My own observations on plug welding, thus far:
The welder should be set fairly hot, and the metal needs to be good and clean. I found it easiest to tune the settings on a piece of scrap of the same thickness. Focus on the back of the weld to make sure you have thorough penetration of the base metal.
Clamp well.. make sure the two panels are very tightly clamped together. Use a clamp on each side if you need to.
Hole size does matter. If the holes are too small, it will be very hard to get good penetration, because the weld pool will not be large enough to really melt into the base metal. I have an air powered punch/flange tool, but the holes it makes are far too small. I still use it to start with, but then enlarge the holes to 5/16" with a hand drill and unibit.
When going around the edge of the hole, make sure you get right up to the edge. If there's any doubt, swirl around the circle again while it's still molten- make sure that it's fully connected to that top panel all the way around.
Butt Welding
There are plenty of tutorials out there (especially on metalmeet.com) about how to do a seamless butt weld. With a MIG welder, you basically want to fit the seam pretty tight.. leave a slight gap, but no more than 1/32" or so.
You often see advice to leave a wider gap for MIG than you would with TIG.. this is kind of bogus advise in my opinion. It leaves room for more shrinking and distortion, but it makes it harder to see it as it's happening (and correct it). So I feel that a tighter joint is a better way to go.
Clamp it along the seam (it's good to have lots of vice grip panel clamps!) and then start tacking it. Tack once every inch, but make sure you stretch each tack on dolly (grinding first if necessary) to undo any shrinking due to the heat. It's pretty obvious where this is needed if you fit the seam tightly- it will start to pull together. stretch it, only in the HAZ (areas where the metal is discolored from the heat) to restore the even gap.
Once the whole seam is tacked every inch, go back and start put another tack mid-way between each of those tacks, and repeat until it's filled in. Then flatten the welds with a grinder so they're almost even with the base metal, and go back with the hammer and dolly and stretch the HAZ again until it's even.
Here's a video of this being done (by someone a lot more skilled than I am) with TIG.. Ignore the background noise..
For more tips, check out these MetalMeet threads. I think you'll need to register there to see them though.. It's totally worth it.
6/20/2006: The 2006 Coppa Bella Macchina Show
The 13th Annual Coppa Bella Macchina show in Belgium happened last week. I wasn't there, but several members of the fiatcabrios yahoo group sent some amazing pictures.
This is probably the largest gathering of fiat cabriolets in many years. 13 cars from 3 different countries were presented. I wish I could have gone. That's not likely to happen again for a while!
These photos are all courtesy of Jacques-Philippe Bordier, from his site, http://fiat1500.over-blog.com/.
---
Thanks again to Jacques (invaderjack) for the photos!
9/1/2005: Another Road Trip
Last week I drove down to Long Island to pick up a trunklid I'd purchased on ebay. The seller has a nice original european-spec '66 1500, but was looking to get rid of a parts car and a lot of accumulated parts which came with it which he didn't need at the moment.
I was pleasantly surprised by what I found. Although the parts car was pretty thoroughly in the "parts car" category (and due to having been converted to a 124 twincam and non-original interior bits, it was missing most of the things I'd be interested in), some of the other extra parts were excellent.
I took home the trunk lid and hood (from some other car, apparently). Not only are they the same color as my car (grin) but the hood in particular is in very good shape, with only a little surface rust where the paint had been scratched.
I also got a bunch of tail and parking light assemblies, miscellaneous nuts and bolts, headlight brackets, etc. I was very happy to find another front grille, but this one had the proper chrome piece for the round fiat badge:
Although it's rusty, I think it can be saved, and it's better than the alternative, which is the incorrect, but similar, piece from an early 124 spider.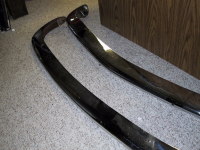 Perhaps the most interesting part part of this haul was
3
bumpers, one front and two rear. One of the rears was totally rusted out, and is basically scrap. The other, though, is in remarkable shape. It looks as though it may be a NOS replacement (for the dead one) and may never have been on a car. The chrome is worn and will need to be redone, but there's essentially
no
rust on the back of it, which is really remarkable. The front one has very light rust and some denting, but it looks fixable, and may be a little better than my other "good" front bumper.
Also included was the front chrome piece that goes across the nose of the car, above the grille. This too looks almost perfect, as though it's never spent any time on a car. Really remarkable.
It was a long trip, but really well worth it, since some of these parts are such high profile cosmetic items.. the better the originals I can find, the better they'll look when refurbished.
10/27/2004: This made my day
This car belongs to Gene Phillips. He sent a series of photos to the fiatcabrios list.
This car started life as a '66 cabriolet and was transformed by its prior owner into this monster.. It's built on a custom tube chassis with roll cage, custom suspension, 383 stroker motor and a powerglide.. you name it, it's there.
As Gene said, "I know it kills the purist in you guys, but it is really unique.".
Heh, I think it's great. If you're going to chop up a "classic", you might as well go all the way. This car is magificently over the top.
I can safely say I won't be doing anything like this to my car, though :)
10/19/2004: Catching up..
I've been very busy lately, and haven't gotten as much done on the car as I'd like. I also haven't posted much to this site in about 2 months, even though I have accomplished a few things on the car.
One thing I've certainly seen as i've read other folks sites on their car restoration projects is that this sort of lull is not unusual.. Life gets in the way sometimes, and motivation comes and goes as well.
Well, today I posted 3 other entries that catch things mostly up to where I am as of now.
No guarantees, and no deadlines, but I do hope to pick up the pace a bit on the car. At this point the car is almost completely down to a bare tub. I have plenty of body work to do and components to restore. So there's certainly no shortage of things to keep me busy. Cold weather's coming, but I'll try not to let that slow me down. We'll see what happens.
8/17/2004: Concorso Italiano 2004
Last week I went out to Monterey, CA to attend some of the many car-related events during the "monterey car weekend". (in fact, it covers the better part of a week at this point).
I ended up spending thursday with a bunch of Fiat America folks, on a cleverly organized "frugal thursday" tour of various events which can be gotten into for free, including the warm-up day for the Monterey Historic Races at Laguna Seca.
On friday, I went to the Concorso Italiano event. It was really a great time! There were a mind boggling number of expensive italian cars there. I didn't take a whole lot of photos of those, but here are some links to other peoples' collections:
I got to meet Tim Schlose and Dan Lennon, who both brought '65-66 (118K) 1500 Cabriolets. I filled most of my camera's memory card with just close-up pics of these two cars, which will come in handy for reference.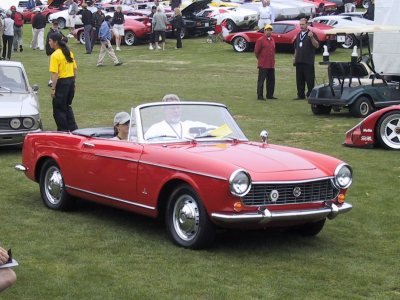 Tim Schlose's 1500, 118K 047086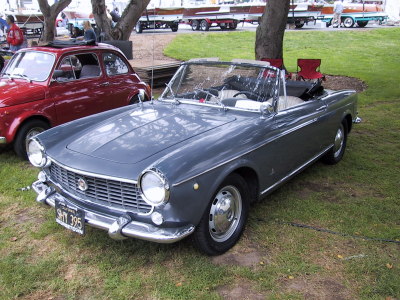 Dan Lennon's 1500, 118K 044778
Great cars, guys! Makes me anxious to get back to work on mine :)
Tim's car is very pretty, with a great body and a mildly customized interior. It's been switched to cloth upholstery, and he's added a few OSCA-inspired touches, like the nardi wheel and footrest: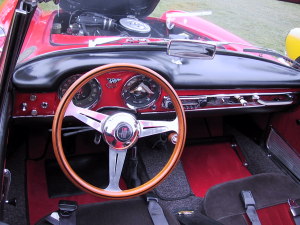 Dan's is fairly original overall- most of the car seems untouched, which is great as far as I am concerned! The car is amazingly solid and rust free, even the undercarriage. Check out that grille!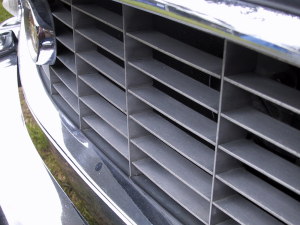 Hard to believe the pitted one on my car is supposed to look that smooth :)
5/5/2004: A Welder!
I've been planning on getting a decent MIG welder for ages. I wanted something that would hold up, and which would be flexible for me to do whatever repairs I needed to do.
I decided early on that I'd stick with one of the larger name brands, such as Hobart, Miller, or Lincoln. For a 115V welder, most of them offer fairly similar models, in terms of features and price, and I really think you can't go wrong with any of them, especially if you avoid the low-end "economy" models. (Not that there's necessarily anything wrong with them, but as a general rule I usually shoot for mid-range when i'm spending a bunch of money on something- i tend to feel better spending a few hundred more for something that I think is "good" than on something that's a better deal- unless it's cheap enough to be disposable.)

After looking around at prices and features, I finally settled on the
Lincoln SP-135 Plus
. In addition to all the usual goodies, the "plus" model includes an infinite adjustment on both voltage and wire speed, which I imagine would be helpful in dialing in the right settings for a particular job. (Instead of having just a few specific settings to choose from).
I ordered it with a cart, since I wasn't really in the mood to build my own (I know, i know, what kind of person doesn't build their own welding cart? :) I have to pick up shielding gas for it tomorrow, and then I can try it out. I read The Welder's Handbook a while back, but this will be my first time actually welding something. I think some practicing is in order before I go near the car ;)
4/6/2004: Road Trip for Parts
This weekend I drove down to Asheville, NC, a round trip of around 1700 miles. I had a great time- I love to take the occasional long road trip. I think this was the furthest i'd gone since my last cross-country drive, in 2001.

For a New-Englander like me, Virginia and North Carolina are pretty much "the south", which makes it almost like going to a foreign country. I made sure to partake of a Bojangles Chicken Biscuit while I was down there (it's mandatory when I am in NC- don't ask :)).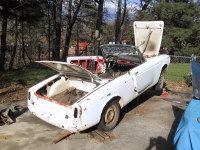 The official purpose of the trip was to pick up some car parts. Rob Sewell is parting out this 118H 1500 Cabriolet. As you can see, it's firmly in the "parts car" category. The previous owner was very fond of bondo and pop rivets. There are several lines in the body that are just completely missing on this car, smoothed over with filler (such as the seam above the rocker panel, and the trim that goes on it).
I bought several parts. primarily a front bumper and grille, but also a few other spare parts (such as a water pump and thermostat housing) which were in better condition than the ones I had. I also got to snap a few photos of the car for reference. I don't get to see a whole lot of 1500 Cabriolets around, so any chance to take a good close look at one is great.
By the way- Rob still has a number of parts left on the car- anyone looking for anything should definitely drop him a line. He's been listing items on ebay as "fiatracer". I won't post his email address here directly- anyone who wants it just email me and i'll let you know.
12/27/2003: Fun
Today Danny from Fun Imported Autos and Toys. As it turns out, he has a few of these cars himself, and stocks (or can get) many parts for them. Given the fact that he's right up the street from me, this is rather convenient!
We looked over the car and discussed what parts he stocks and is able to get. He's looking into a few things for me now, and we'll follow up in the new year.
In general I was encouraged to have someone who's familar with these old FIATs confirm that this car is really quite solid on the whole, compared to others its age.
8/16/2003: Parts, Parts, and More Parts
My father parted out approximately 3 of these 1500s over the years, so I have a huge number of spare parts, including a complete (rusty) body in two pieces. Most of this is still at my mother's house, but I will be bringing the smaller pieces home a little at a time so I can sort through them and see what I have. Unfortunately there are a lot of parts for other types of cars (later FIAT spiders, Lancia Betas, and even some renault bits).
I spent a week filling a large dumpster with much of the junk that was in the barn, but tried to save anything that looked like it might go to the 1500.
Now I have to sort through those, comparing them with the car and the parts manuals, and determine which ones actually are 1500 parts worth saving, and toss the rest.
I want to get as many of these parts sorted. photographed, and stored as possible before I start any real disassembly of the car- i'd prefer not to get the parts off the car mixed up with the spares right off the bat.
Rather, I plan to store them away in boxes and pull them out as I restore the corresponding bits of the car, so I can pick the best of each. This means that I need to group them approximately by what system of the car they go in.
The FIAT parts manual groups things as follows:
A: Engine B: Transmission C: Brakes D: Wheels & Suspension E: Accessories F: Electrical L: Body Exterior M: Body Interior Z: Tools
I'll probably follow roughly the same grouping when I box up the spares, since it makes as much sense as anything i'd come up with.
8/15/2003: Introduction
This site will document the restoration of my 1966 FIAT 1500 Cabriolet.
This car belonged to my father from the early 80s until his death in 1993. Since the late 80s, it's been sitting in a barn, rusting.
Like every site of this type, I guess I need to answer the "why are you even trying to fix this rustbucket?!" question.
This car was always a project; something my dad planned to get back to "some day". Well, he never got a chance, but I plan to take a stab at it.
I know up front that I could find a complete car in better shape than this one for less than it will cost to fix this up. But, sentimentality being what it is, I would like to stick with this one if I can.
I will do my best to be objective though. If I find that the car is a total mess, I will junk it rather than waste effort on it.
Since these cars aren't especially valuable, I know that even in the best case, i'll spend way more on this thing than it could ever be worth. But still, I think it will be an interesting project for me to attempt. Hobbies don't need to turn a profit :)
On August 17th, 2003, I finally brought the car to my house, about 35 miles from the barn it's been living in for the last 20 years.