8/17/2004: Concorso Italiano 2004
Last week I went out to Monterey, CA to attend some of the many car-related events during the "monterey car weekend". (in fact, it covers the better part of a week at this point).
I ended up spending thursday with a bunch of Fiat America folks, on a cleverly organized "frugal thursday" tour of various events which can be gotten into for free, including the warm-up day for the Monterey Historic Races at Laguna Seca.
On friday, I went to the Concorso Italiano event. It was really a great time! There were a mind boggling number of expensive italian cars there. I didn't take a whole lot of photos of those, but here are some links to other peoples' collections:
I got to meet Tim Schlose and Dan Lennon, who both brought '65-66 (118K) 1500 Cabriolets. I filled most of my camera's memory card with just close-up pics of these two cars, which will come in handy for reference.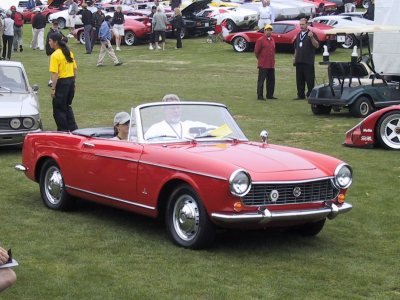 Tim Schlose's 1500, 118K 047086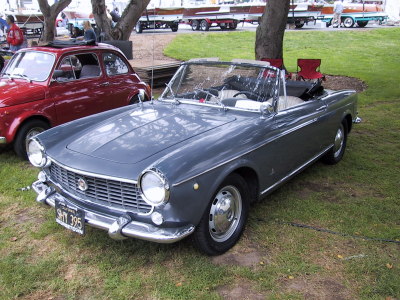 Dan Lennon's 1500, 118K 044778
Great cars, guys! Makes me anxious to get back to work on mine :)
Tim's car is very pretty, with a great body and a mildly customized interior. It's been switched to cloth upholstery, and he's added a few OSCA-inspired touches, like the nardi wheel and footrest: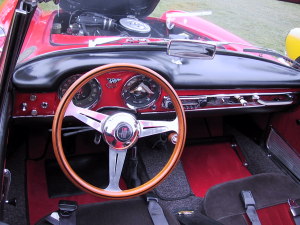 Dan's is fairly original overall- most of the car seems untouched, which is great as far as I am concerned! The car is amazingly solid and rust free, even the undercarriage. Check out that grille!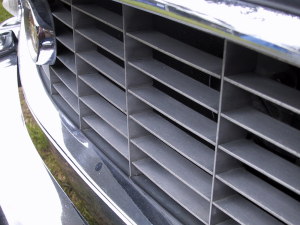 Hard to believe the pitted one on my car is supposed to look that smooth :)