4/6/2004: Road Trip for Parts
This weekend I drove down to Asheville, NC, a round trip of around 1700 miles. I had a great time- I love to take the occasional long road trip. I think this was the furthest i'd gone since my last cross-country drive, in 2001.

For a New-Englander like me, Virginia and North Carolina are pretty much "the south", which makes it almost like going to a foreign country. I made sure to partake of a Bojangles Chicken Biscuit while I was down there (it's mandatory when I am in NC- don't ask :)).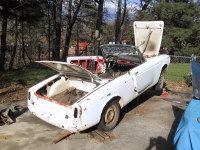 The official purpose of the trip was to pick up some car parts. Rob Sewell is parting out this 118H 1500 Cabriolet. As you can see, it's firmly in the "parts car" category. The previous owner was very fond of bondo and pop rivets. There are several lines in the body that are just completely missing on this car, smoothed over with filler (such as the seam above the rocker panel, and the trim that goes on it).
I bought several parts. primarily a front bumper and grille, but also a few other spare parts (such as a water pump and thermostat housing) which were in better condition than the ones I had. I also got to snap a few photos of the car for reference. I don't get to see a whole lot of 1500 Cabriolets around, so any chance to take a good close look at one is great.
By the way- Rob still has a number of parts left on the car- anyone looking for anything should definitely drop him a line. He's been listing items on ebay as "fiatracer". I won't post his email address here directly- anyone who wants it just email me and i'll let you know.