9/1/2005: Another Road Trip
Last week I drove down to Long Island to pick up a trunklid I'd purchased on ebay. The seller has a nice original european-spec '66 1500, but was looking to get rid of a parts car and a lot of accumulated parts which came with it which he didn't need at the moment.
I was pleasantly surprised by what I found. Although the parts car was pretty thoroughly in the "parts car" category (and due to having been converted to a 124 twincam and non-original interior bits, it was missing most of the things I'd be interested in), some of the other extra parts were excellent.
I took home the trunk lid and hood (from some other car, apparently). Not only are they the same color as my car (grin) but the hood in particular is in very good shape, with only a little surface rust where the paint had been scratched.
I also got a bunch of tail and parking light assemblies, miscellaneous nuts and bolts, headlight brackets, etc. I was very happy to find another front grille, but this one had the proper chrome piece for the round fiat badge:
Although it's rusty, I think it can be saved, and it's better than the alternative, which is the incorrect, but similar, piece from an early 124 spider.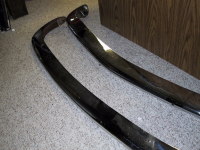 Perhaps the most interesting part part of this haul was
3
bumpers, one front and two rear. One of the rears was totally rusted out, and is basically scrap. The other, though, is in remarkable shape. It looks as though it may be a NOS replacement (for the dead one) and may never have been on a car. The chrome is worn and will need to be redone, but there's essentially
no
rust on the back of it, which is really remarkable. The front one has very light rust and some denting, but it looks fixable, and may be a little better than my other "good" front bumper.
Also included was the front chrome piece that goes across the nose of the car, above the grille. This too looks almost perfect, as though it's never spent any time on a car. Really remarkable.
It was a long trip, but really well worth it, since some of these parts are such high profile cosmetic items.. the better the originals I can find, the better they'll look when refurbished.