6/14/2004: Assembling the Subframe
Since the last update, i've finished painting most of the suspension parts, including the subframe, control arms, and associated nuts and bolts.
Danny at Fun Imported up the street pressed in new control arm bushings, both upper and lower.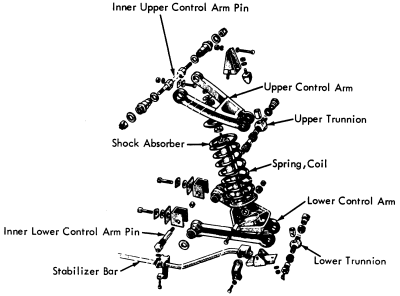 I test-assembled the upper control arms, and everything went together fine. I found all the bits and pieces and everything still fits. I couldn't tighten down the end nuts very far since there's paint in the threads. I'll have to get a tap to take care of that- don't have one large enough at the moment. There's no rush- I won't be tightening these nuts fully until the car's weight is on the suspension, to avoid twisting the rubber in the bushings.
I attempted to test assemble the lower control arms, but found that the bolts would not fit through the bushings. It turns out that these things had a ridge that I had to sand out with a dremel before the pins would fit.
Much of the front suspension is assembled with one-time-use "nylock" nuts, so I ordered new ones from McMaster-Carr.
I also ordered some urethane front sway bar bushings from summit racing. Doug Hamilton mentioned these some time ago on the FiatCabrios mailing list. These are made by Energy Suspension (Part number 9.5156G) and should hopefully be a drop-in replacement for the stock rubber bushings. Unfortunately, I haven't found any urethane substitutes for the sway bar end or control arm rubber bushings, so rubber will have to do there.
I had a nice set of sway bar end bushings, which had been installed on the "blue subframe". Other than some blue overspray, they seemed to be in reasonable shape, so I just cleaned them off and will be using them.
While inspecting my spare set of front suspension pieces, I found that they had a little metal "nut retainer" behind the steering arm. It was bent over the nuts that hold it to the steering knuckle, to prevent them from ever backing out. These were missing from the "blue subframe", so I stripped them off my spare set and cleaned them up.
These appear to have been originally left unpainted (just silver-cad plated), so i will add them to my batch of parts to be plated, rather than painting them black. I'm hoping to finally send out those parts this week- i've found two places that can do silver cadmium plating of car parts at reasonable prices. I'll post here once I decide which one to go with and have some results to share.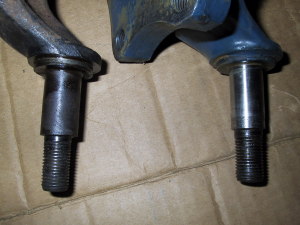 Continuing with the reassembly, I found that the passengers' side steering knuckle had some scoring on one of the trunnion shafts. I stripped down the spare one so I could compare. It has much larger shafts, and won't fit the bushings in the (new) trunnions I want to use. The other knuckles must have been machined down and larger bushings fitted.
So i've got a bit of a dilemma. I think i'll start by trying to smooth over some of the scoring on the blue one and see how it turns out. It may be "good enough", since the scoring is way at one end. If it fits tightly and I don't feel any significant play in the joint, I think i'll go with it.
Note: In the process of reassembling the subframe, I used a number of diagrams and photographs for reference. I've put them into one page in the "Reference Information" section.
This is where things stand now:

6/6/2004: Cleaning and Painting the Subframe and Suspension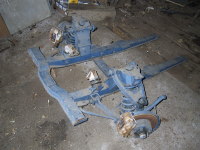 I've been planning to build a new subframe assembly, complete with front suspension, and then swap it out in one step. I already had a complete rebuilt subframe from the parts car (#40912), which included numerous new parts. However, all the rubber in the bushings was badly cracked, and it was painted a weird blue color instead of the correct black.
As I disassembled the subframe, I found a number of problems with it which have needed fixing.
rotten (though new) rubber
one of the upper control arm cross bars was overpainted on the area which is meant to rotate inside of the bushings, caused them to bind, and would have shredded the bushings.
After I got the control arms back from being blasted, I noticed that the threads where the trunnion bushings screw in were pretty much gone on two of the arms (one upper, one lower).
Fortunately I had another spare set of front suspension parts, (other than the ones which are on the car now). I found two replacements that were less worn and substituted those.
This gave me an excuse to learn how to get the bushings out of the old ones, with an air chisel. This is now my favorite tool of the day. BRAAAAAPP! Done. BRAAAAAPP! Done.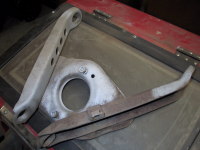 Unfortunately, since these arms were rusty, this meant sandblasting them on my own. Blasting in my little cabinet is really tedious, but it's the best way to get this done quickly.
Once I finished that (it took a few days), I degreased and wire-brushed the spider trunnions and steering knuckles, as well as touching up the subframe.
Over the weekend, I finished up cleaning parts and painted them with the first coat of POR-15.
| | |
| --- | --- |
| Cleaned | Painted |
| | |
| --- | --- |
| Underside Painted | Shiny |
This time I tried using a foam brush. It worked quite well, and tended to spatter on my skin less than bristle brushes had. I'll put a second coat on everything tomorrow. Then i'll flip the subframe and paint the other side.
After that, I'll topcoat with a lower-gloss "chassis black" color, which will look more correct and protect the POR-15 from UV light exposure. The POR-15 does dry fairly smooth, but there are some signs of brushing and occasional bubbles. I'm going to experiment with sanding, then spraying the chassis black topcoat, which I hope will give a smoother finish on the flat sections of the frame.
5/26/2004: Rocker Panel Rebuild 2

Well, i've been out of town for a while, and haven't really done any work on the car. However, there has been some progress at
Enfield Auto Restoration
on my car.
I stopped by today to check it out. They've opened one side up to get a feel for what kind of repair will be needed.
The good news first- the top part of the inner panel is solid, as is the jacking point. The bad (though not unexpected) news though, is that the rust perferation extends along the whole bottom surface of the inner panel. It will have to be cut partway up and separated from the seam on the bottom, then a replacement fabricated and welded in.
Here are some photos I snapped:
As you can see, the whole bottom surface is full of holes.
They'll probably start repairs on this side in the next week or two. I'll try to get more photos as it progresses. The other side will be used as a template to form new outer panels. Once it's complete, the passenger's side can be rebuilt in the same way.
I imagine this will take some time, but I'm not in a huge rush- I still need to paint and reassemble the new subframe, and I have plenty of engine work that could be started.
5/5/2004: Rocker Panel Rebuild
Back in February, I started looking into the problem of repairing the structural area under the doors of the car, which is where most of the rust on my car is concentrated.
This area has an inner (structural) box section and an outer body panel. My car needs repair to the inner panels (the extent of which isn't clear yet, because I can't see all of them) and replacement of the outer rocker panels.
The inner panel just has to be strong, not pretty, so I'm not so concerned about getting a proper reproduction panel there. I'm sure a competent shop can fabricate patches for it.
The outer panel, on the other hand, is rounded and quite visible on the finished car. I was hoping to find decent reproductions of this part that I could give to a shop to install. Until I had the replacements in my hands though, it didn't make sense to cut up the ones on the car, since they would be needed as patterns if I had to have custom panels made.
I first talked to Chris Obert, and found out that he only had one left in stock, and his supplier had stopped making them. I ordered it anyway, just in case another showed up. It arrived and turned out to be a terrible fit- it was a good six inches too short and the curved shape was incorrect relative to what was originally on the car.
I had no luck elsewhere either.. the only place I could find that did in fact have these panels available was Biondi Lamierati, in Italy. By the time I added up the costs to order and ship them to the US, plus the potential hassles of dealing with a small shop in another country, I figured it just wasn't worth it.
I looked into a few places around here which could do the repair and panel fabrication work, and ended up talking to Jon at Enfield Auto Restoration. It's quite a place. They specialize in restoration and custom coachwork, mostly high-end antique cars like Rolls Royces. When I went to visit, they had a whole bunch of really beautiful old cars I know very little about. The place oozes craftsmanship.
This is a shop that can make a relatively simple FIAT rocker panel in their sleep, but I know they'll do it right and it will look correct when it's done. Since this is literally the foundation of the car, I want this job done right, even if it ends up being relatively expensive. Hopefully I can do most of the other bodywork myself to offset the expense.
I sent the car over to Enfield last week, and discussed it with Jon this morning. The current plan is to open up one side and see how it looks, and then to repair the inner box section as appropriate and fabricate a new rocker panel from 18ga steel in sections, using the other side as a pattern. The sections will be butt-welded together to give a finished panel. I will try to get some photographs next time I go there to show the repair progress.
In the meantime, I've received the suspension parts back from the sandblasters' and am painting them and the subframe so that I can get it reassembled. I'll cover this in more detail in future articles- right now I just need to find the time to finish painting these parts.
4/22/2004: Subframe 5
I've decided it's about time to paint and reassemble the replacement subframe for the car. Yesterday I had Danny show me how to get the bushings out of the control arms and then I removed the spider trunnions.
Today I started cleaning up the upper control arms and cross bars. The blue paint that's on them is rather thick, and a pain in the neck to remove. It's slow to blast off, at least with my sandblaster, and in some corners it's quite thick.
I used a wire wheel on the angle grinder to remove a bunch of the paint from the more accessable surfaces of the upper arms, and then followed up with the blasting cabinet to get the rest off. I didn't even finish one side tonight. Part of the problem is that my air compressor is really not up to the job- it runs constantly while I use the blasting cabinet, which isn't good for it.. This is going to take a while at this rate.
I'm thinking about just sending these out to be blasted instead, as I did with the rest of the subframe. I can probably get a collection of other things together to do a larger batch of parts, which is probably more economical.
4/17/2004: Cleaning, cleaning
Over the last few days i've finished de-rusting all the hardware I plan to have re-plated. This includes brackets, nuts and bolts, etc.
This morning I cleaned up the garage somewhat, putting away a bunch of the interior parts I removed from the car a few weeks ago. It's still a mess, but it's a slightly more organized mess.
And tonight I decided to scrape a bit more undercoating off the car and to remove the brake/clutch pedal assembly.. It came out pretty easily. I also found something unexpected- I've known that i'll need to do something about the clutch linkage rod for this car. It's really worn down, and would be pretty sloppy. While I was putting away some other stuff, I found a spare one in a box of grille parts i'd forgotten about. It's much better, so i'll be using that one instead.
I'm hoping to get that box of bolts and brackets sent out for plating this week- I still am not sure where i'll be sending it, but i'll make some calls and try to figure it out.
3/24/2004: Dashboard 2
First update in a while.. Tonight I removed the tach and speedometer, taking notes as to what wires went where.
I think I'll leave the rest of the switches and wiring as it is for now. I'm a bit daunted by the idea of fully removing the wiring harness- it seems a bit stiff, so I tihnk I will wait for a warmer day before screwing with it any more.
I'm at the point now where i've taken enough stuff off the car for the forseeable future- i've got plenty to work on cleaning up and rebuilding for a while.
Hopefully I'll be finding a shop to do the rocker panel repairs soon. I'll also be picking up a MIG welder so that I can begin on the floor and other damaged areas once that's done.
2/29/2004: Heater, Wiper Motor
I decided to continue on stripping the dashboard area. My goal is to get all the stuff that needs to be refurbished out of there, leaving just stuff that can be masked off when it comes time to paint the car.
Yesterday, I removed the windshield wiper motor assembly. (Note: there appear to have been grey rubber gaskets between the chromed bases on the outside and the body ofthe car.. THey were totally disintigrated, though. On the inside of the car, rope caulk was wound around the threaded section.
Once that was out, I finished bead blasting the intake manifold and painted it with Eastwood Diamond Clear- we'll see how that holds up.
I then tore down the engine mounts so that the metal pieces can be repainted. One in particular was in pretty rough shape (rusty, snapped off stud, etc). I'll probably swap it out with one from the spare parts pile.
This morning, I took off the windshield washer tubing and jets, then began to take the heater out. The heater box is held in by 4 bolts (the two at the top are hard to see- one of which was missing on my car, either because it was never installed in the first place or because someone has worked on this before, I don't know which).
I figured out the hard way that the heater core must come out before the heater box can be moved. If you do it the other way around, the pipes that go through the firewall can't move enough to clear it. It would have been better if i'd removed the heater core before messing with those bolts.
The heater box is as rusty as you would expect it to be (it's open to the outside world at the top, relying on drains to take the water out the bottom of the car). Nothing substantial though, easily cleaned up and painted.
I'm happy to say that the whole cowl area of the body seems perfect- no signs of rust at all.
1/31/2004: Dashboard
Today I managed to remove the radio and the dashpad. The dashpad is held in by three nuts. The center one is accessible through the radio opening and (through contortion) from underneath. The one on the right is harder to get to, but you can barely get a wrench on it and move it a few degrees. Fortunately it wasn't rusted and I was able to take it off by hand after loosening it.
The left one was really inaccessible. I was able to barely get two fingers around it- a wrench would have been almost impossible. Lucky for me, it was loose enough that i could take it off with my fingers alone (slowly).
Possible signs that this part has been taken off before- the washers on the left and center ones were flipped opposite directions, and the one on the right was a different kind of washer altogether and it had an 11mm M6 nut on it instead of 10mm. Very strange.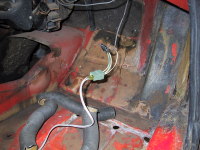 With the top off, I could see the radio wiring (I'd just snipped the wires to take out the radio, since there was plenty of room to reconnect them if i decided I wanted to). As you can see, it was actually spliced
twice
. They didn't bother to remove the wires from the old radio last time it was replaced- it was just spliced and re-spliced.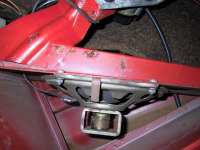 I also solved the mystery of where the speaker was. I'd been wondering where it was hidden. There's one speaker, and it's hidden behind a structural member, facing into it! I imagine it must give just delightful sound ;-)
I then took off the plastic housing around the steering column. I found that there was a rubber piece around the ignition wiring that was melted, and one wire that had burned through at some point and had apparently been disconnected. I'll need to track down what the story is there with a wiring diagram.
Other than that, the wiring harness in the car looks fairly good- i saw one or two other splices, but nothing too scary- the radio was wired straight to the ignition switch, so nothing was cut up on its account.
The plastic arms on the turn signal stalks are cracked, so i'll need to replace those. I have to check out #40912's and see if they're better.
The most irritating thing about the wiring harness in this car is that there are really no junction blocks anywhere. It's not possible to remove sections of the wiring harness as a unit easily- it appears to me that one bundle of wiring could go to different parts of the car. I will investigate better once I get the heater out of the way and can see things better. Ideally it would be nice to take the whole harness out of the car to clean it up and make the tub of the car easier to sandblast and paint, when we get to that point. This may not be practical though.
Sunday, I continued with the dashboard, removing the grab handle, cigarette lighter, and stainless trim strip. I found that one of the mounting points had come loose from the trim- i'll probably epoxy that back on, rather than trying to weld or braze to stainless.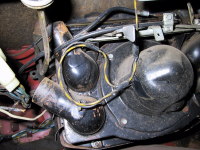 Then I removed the heater fan. Like the cigarette lighter, it had an in-line wire spade connection wrapped in electrical tape- this doesn't seem very "professional" to me, but it might be original- I don't see how else you would replace components like this. I will compare with #40912.
1/29/2004: Misc Stuff..
I removed a few more bits off the engine
centrifugal oil filter (gunk)
oil separator
fuel pump
oil pressure fitting
I also noticed that one of the bolts that holds down the valve cover has been tapped out to a larger size, so it doesn't match the other 3. I'll have to look into that further- it may make sense to have a helicoil put in there when I have the valve job done. Also removed the two stainless trim pieces on top of the rear fenders. This required snapping off all 4 fasteners (requiring some contortion to get to two of them). They can be replaced without too much trouble, so i'm not going to worry about it.
I also tried to remove the stainless piece in front of the rear bumper. I got one screw out, got another to spin, and tried to drill two (with little success).
Will try again with a better drill bit and see how I do.
1/28/2004: Intake Manifold
Spent the day cleaning parts and sorting them into piles according to what needed what kind of coating applied. A number of fasteners spent last night and today in the tumbler, and came out pretty good.
I'm trying to get together a batch of parts to be sent out for zinc or cadmium plating.
I started to clean up the intake manifold. There's a little valve inside the manifold which was totally gummed up. I got it loose and scraped the worst of the goo out of it.
I then started bead blasting the whole thing.
1/27/2004: Subframe 4
Monday afternoon, I picked up my subframe from Manchester Motor Car. They welded up a few holes, fixed some popped welds, and butt welded in two patches (in the rusty areas).
Here's the before and after:
Next step is to fix the two "horns", weld them back on, and then paint the subframe with POR-15, inside and out.
1/25/2004: Heater Valve II
I went down to my mom's house and took the other heater valve off the other engine there.
This one had an intact spring and the screws were less chewed up than the other.
The casting that was so corroded on mine was in much better shape on this one, and cleaned up well.
.. Except I found that it has a big crack in it. Gah. I don't know if I did that while removing it, or if that was there, but there's no way I can use this as it is.
My next option was to have either of these pieces welded, or to try to find another used one that's in better shape.
On monday I went to talk to Danny at Fun Imported about this, to see if he had a better core I could start from or something.
As it turns out, he had a new one in stock for a reasonable price, so I decided to just go with that instead. Thus ends the saga of the heater valve.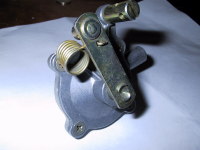 1/25/2004: Heater Valve
After a night soaking and a little heat from a propane torch, I got the heater valve unstuck.
Then I bent the tabs that hold the arm onto the valve shaft and removed it. I bead blasted the components individually:
Unfortunately, this blew holes right through the area of the valve back that was heavily corroded:
I have one more valve (on the engine that's still in the barn at my mom's house to try. Hopefully it's in better shape.
1/23/2004: Subframe, Etc.
Earlier this week, I started to look at the air cleaner as a possible project. I took off the hose that connects the two pieces together and found a bit of original paint underneath that I will try to match. I have two air cleaner assemblies, the one out of my car and the one from #40912. I believe i'll be using the lid from 40912's, and the body from mine. The metal is fairly pitted, so this will be my first experimentation with real high-build primers and body fillers. I'll have to wait for it to warm up before I can really do anything though.
I placed an order with C. Obert & Co. for the various bits I need (new hose, filter, sticker, etc).
I also ordered several types of foam from materialscraps.com. I hope to use it to replace the original foam gasket between the lid and the rest of the air cleaner. I was able to remove the old one intact, but it's gone all gooey with age, and I don't really think I can reuse it.
On Wednesday, I wire-brushed the whole replacement subframe, which had some light rust on it from sitting (I had it sandblasted a while ago now, but haven't painted it.
Since i'm concerned about the rusty areas in the front, I decided to remove the two bent-up "horns" and see how things looked underneath them. (As far as I can tell, these pieces are just there to get scraped if you pull up too close to a curb, to prevent damage to the real frame- I may not bother replacing them, since the originals are so bent up anyway)
| | | |
| --- | --- | --- |
| | | |
| After sandblasting | Now (left) | Now (right) |
As you can see, the metal was quite thin on both sides, and tore when I drilled and chiselled off the horns. Definitely will need to be repaired before I can paint this subframe.
But still, compared with what's in the car now, I think it's work fixing.
Yuck.
On thursday, I removed the accelerator cable and the centrifugal oil filter cover bolts, adding them to my pile of rusty hardware to be cleaned up.
I've been bead blasting all the components which I need to have zinc plated. Once I have enough collected together, I will count them up and start looking for a place to zinc plate them as one batch. I imagine there'll be at least one more batch afterwards, with the things I miss the first time, but still, i'd like to knock out as much as I can in the first round.
The blasting cabinet is working wonderfully- i've set it up in my laundry room, which is adjacent to the garage, so i can run a hose through the door. That way, I can work in a heated space. It's quite chilly in the garage lately.
While I was taking out the accelerator cable, I also took out the gas pedal. It'll need to be painted or powder coated.
I removed the heater valve and started to disassemble it. I had to cut off one of the screws, but I did get it apart:
The spring is broken, and the valve was full of disgusting gunk, but the rubber diaphragm inside is not in bad shape.
The rotating shaft was wedged up solid, as was the screw that goes in to it. I left it to soak overnight in penetrating oil, which hopefully will free it up.
As it turns out, this heater valve is the same as on a ferrari 250 or 330. Naturally this means it costs $150 to replace, but it does mean there are some additional sources for parts. For instance, the rubber diaphragm appears to be available for about $15 through one of the ferrari vendors.
I also separated the carb from the manifold and started cleaning it up. The manifold is in the "to be bead blasted" pile now.
On friday i brought the "new" subframe to Manchester Motor Car Company. They're going to weld in patches to fix the rusty sections on monday.
1/18/2004: Bead Blasting
Over lunch, I went out to New England Silica and bought a 50 lb bag of #10 glass beads for $24.00.
Glass bead is a relatively gentle media. It's usually used for cleaning parts, but generally will not touch rust. It's gentle enough to use on aluminum surfaces, leaving them clean, but not rough.
Here's an example of what it does:
(in the first picture i'd started on the right-hand piece, in the second i've finished cleaning both)
It erases the corrosion, but doesn't smooth out any scratches or surface imperfections that exist on the surface of the part. It's interesting to see all the casting imperfections in these parts.
The parts are left with a slightly matte texture, but nothing objectionable. And of course it can be polished if that look is desired.
I'm currently trying to decide how to best protect these pieces from immediately re-corroding. I think i'll try Eastwood's Diamond Clear paint. Not sure yet though.
In the process of blasting, i started to have some problems with my blasting cabinet- it just wasn't doing much. I took apart the blasting nozzle and found a piece of metal was wedged inside, partially blocking the flow of grit. Also the trigger valve was jamming up, so I oiled it to get it moving again. I also ordered a better quality replacement from TP Tools. Switching to their pickup tube made such a big improvement, i decided to go the rest of the way and switch over the blasting gun as well.
1/14/2004: Brake Reservoir
I started cleaning up the brake fluid reservoir. The plastic cup came clean pretty easily with some scrubbing and Simple Green.
For reference, here is what the assembly looks like:
You can see here where it was protected by the gasket, the bracket was originally zinc plated:
I think it will clean up pretty well.
1/11/2004: Tumbler?
Tonight I took apart the thermostat housing. As expected, the studs were thoroughly rusted and stuck in the aluminum. I snapped two off, but it was no big deal- once I separated the two pieces I was able to remove the studs with a pair of vice grips.
For reference, these studs are M6x35mm, and I will be replacing them (as well as the nuts and washers) with new studs.
I threw a small batch of other hardware into the vibratory tumbler I bought from Eastwood. Using the green pyramid media, it seems to take a long time to get the rust off, but it does eventually work. I think I may have had too much media in there to start with, so things weren't tumbling very effectively.
Once the rust was gone (several days, all told, running it a few hours here and there), I switched the parts over to the "dry shine" media. I let it run all day while I was working, and the bolts came out nice and shiny.
I'll be experimenting with this process some more over the next few weeks. I'm also looking into how to get these pieces plated, so they don't just rust again. I'm inclined to try to find a shop to do it, rather than use a Caswell kit. Depends on how much it costs though.
12/16/2003: On the Engine Stand
NAPA had the proper size bolts to mount the engine to the stand. I had to go there twice though. On the first attempt my short bolts were too short and my long bolts were too long.
Second time was the charm, though, and the engine is now mounted on the stand. Tonight I sprayed the engine and transmission down with Gunk and hosed off some of the grease. Lookin' good.
12/15/2003: Removing the Engine
Tonight I rented an engine hoist and pulled the engine. I removed the 4 bolts that hold the transmission mount to the subframe and transmission and supported the back of the transmission with a floor jack.
I then removed the two nuts which hold the engine mounts to the subframe. I With the steering fully to the left (to give a bit more clearance around the steering linkage), I was able to lift the engine up a bit and then forward to get the oil pan over the subframe. Then I started lowering the back of the transmission and raising the front of the engine.
At this point my cheap load leveller broke and I had to fiddle with it to get it somewhat functional (I reversed the threaded rod, removed the handle, and added another nut to help prevent it from slipping, as the threaded part of the sliding section was stripping out).
At that point I was able to get the engine tipped enough to clear the front of the engine bay. I couldn't tip it back to a level position once it cleared this, so I had to lift the tail of the transmission up and over the fender.
At this point I found that I didn't have long enough bolts to mount the engine to my engine stand, and had to call it a night. Tomorrow I hope to find some suitable bolts (M12x1.5mm, and odd size) before I have to return the hoist.
Yay, empty engine bay!