1/25/2004: Heater Valve
After a night soaking and a little heat from a propane torch, I got the heater valve unstuck.
Then I bent the tabs that hold the arm onto the valve shaft and removed it. I bead blasted the components individually:
Unfortunately, this blew holes right through the area of the valve back that was heavily corroded: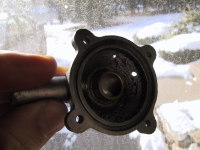 I have one more valve (on the engine that's still in the barn at my mom's house to try. Hopefully it's in better shape.