9/15/2003: Removing lights
I removed the front turn signals (unfortunately, the mounting studs were badly rusted up and all snapped off. they can be fixed, or I may just replaced the lights altogether, since the chrome is fairly pitted.
I also took off the tail lights (without breaking anything).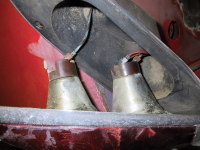 Between all the tail lights I have (about 3 pairs), I only have 3 fairly presentable lenses. They all have imperfections, but I think there are two that can be polished up to look reasonable. Also I think I have a few good gaskets, so that's all set.
The chrome on the lights themselves are all badly pitted- that may be the hardest thing to fix.
I also took off the license plate lights. The wires that connect to them can easily fall back into a limbo area that's hart to get to, so I made sure to label and stick them into the mounting holes so they won't fall down.
I stripped the remaining bondo on the rear end of the car, so I can now see the full extent of the metalwork that will be needed.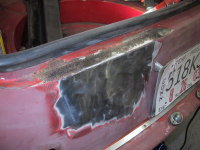 Mostly it's to the left of center, and above the bumper line. I believe I can see how to repair it all, replacing one section and smoothing a few others.