12/5/2007: Exhaust Manifold Done
I had broken off two studs on the exhaust manifold when I originally took it off the car. A few months ago, it was sent out to a machinist to have those drilled out and the gasket surfaces levelled.
I then brought it to a local company, Central Connectict Coatings, for ceramic coating in a "cast iron gray" color. It looks pretty nice now!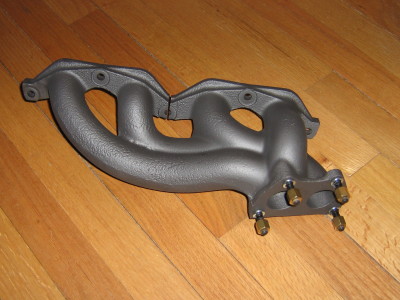 Nothing can be done about the rust pitting, of course, but at least now it should stay this color instead of rusting again. And this type of coating also helps control under-hood heat.
For reference, the new studs I matched up with the originals I had were Dorman part 675-332.. 40 mm long: "A" thread 21mm long, "B" thread 10mm long, shoulder length 9mm. Anything in this general ballpark should work.
I also had them powder coat the front exhaust pipe (a NOS ANSA part I'd bought on ebay a while back) in a satin silver color. This isn't the same sort of ceramic coating, but still it should last longer than paint.
I also bought the rest of the exhaust system from Theo, and the rubber hangers and bushings from other vendors.
At this point, I have the whole exhaust system basically ready to install, once the car is ready for it. Until then, it's living in a spare bedroom in my house!
I am still looking for a few parts, but I don't expect them to be that hard to come up with. Specifically, part 4130153 (the clamp that goes between the front pipe and the bracket on the transmission) and 9 of 4112294, a little washer sort of thing that goes on the rubber exhaust mounts. If anyone reading this has any of these around, let me know.